History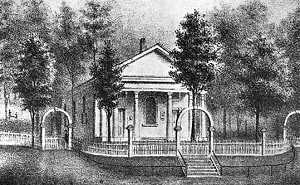 A Brief History
The Unitarian Universalist Church of Nashua was founded in 1826 as the First Congregational Society in Dunstable, now Nashua. The sanctuary was dedicated the following year. Earlier, the First Universalist Society was founded in 1818, and during the 1830's the two congregations worshiped together. The Parish House, which houses our dining room, auditorium, fellowship room, and youth room was completed in 1929.
In 1956, the Unitarian and Universalist congregations merged to form the Unitarian Universalist Church of Nashua. Proceeds from the sale of the Universalist Church and parsonage, and a bequest from Miss Sadie Kenny and a gift from Miss Mabel Chandler, made possible the construction of the religious education and office wing. This building also houses the White Wing School, founded in 1959 as a private, non-sectarian pre-school and kindergarten.
The Unitarian and Universalist denominations took shape in America in the late 1700s, drawing upon their European antecedents. They began as liberal Protestant Christian bodies emphasizing moral and ethical living based on the teachings of Jesus and Scripture. Beginning in the early 20th century these two bodies underwent an evolution whereby they moved away from their Christian base (without fully abandoning it) to be free religious communities based on individual freedom of belief.
Today we welcome into our U.U. congregations all who seek meaning, value, purpose, and spiritual depth into their lives; and who wish to be part of a liberal religious community where those lives can be shared and enjoyed. There are no doctrinal or creedal requirements for joining a Unitarian Universalist congregation.
In 1961 the American Unitarian Association and the Universalist Church in America joined to form our present denomination, the Unitarian Universalist Association. The headquarters of the UUA are in Boston, Massachusetts. We have just over 1,000 congregations in North America, and a few in various other parts of the world.
More History
Substantial additional history is recorded in these documents: