We are the Unitarian Universalist Church of Nashua, NH. We seek to provide an accepting community and spiritual haven in a changing world.
Are you looking for a religious home where everyone is welcome, which puts emphasis on personal responsibility rather than on sin and guilt, where your joys and concerns are shared, where your friendships are deepened?
Grow with us in the liberal religious tradition that respects ideas, values, diversity, and encourages the exploration of spirituality and life's meaning.
Sunday services are at 10:00am - come join us!
Upcoming (more on the calendar)
May 31
"Generational Reflections: People in their Teens", various presenters
June 4
Annual Meeting, 7:00pm, in the Sanctuary. All voting members are requested to attend, all members and friends are warmly invited to attend. Meeting materials are being gathered here.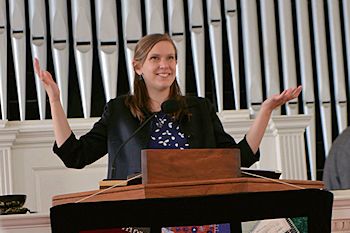 Called and Accepted!
At the special meeting of the Congregation, we unanimously voted to call the Rev. Allison Palm to be our next settled minister, and she enthusiastically accepted!
See video from two Sunday Services, read more on the search committee's blog, and see more photos on Facebook.
Website Redesign
The new site is coming - uunashua.org has been redesigned and will be launched for June 1st. Please take the time to get ready for a dynamic change to look and feel by watching this video tutorial. It will walk you through things like navigating through the site and a few other highlights worth mentioning.
Job Opening - Interim DLRE
We're searching for a 1 or 2 year Interim Director of Lifespan Religious Education. Check here for details about the Director position and application instructions.
Stewardship: The 2015 Pledge Drive
Click to view the new video "If We Do More, We Can Be More!" at uunashua.info.
The 2015 Pledge Form

is here. Please mail or bring your completed form to the church office. Thanks!
Community Dinners
Community Dinners are the third Sunday of each month. Please volunteer to help.


Be a Greeter
Step out of your comfort zone and offer a warm smile to members, visitors, and friends. Sign up to be a greeter today!



VolunteerSpot requires your email address, and does not share it with anyone. To sign up without an email address, contact Emma Sousa.