Church Organization
The organization of the church's staff and volunteers to fulfill our mission is intended to promote clear responsibilities, good communication, and an environment for fostering relationships and programs.
As shown in the figure, the organization of the church is a closed system beginning and ending with the congregation.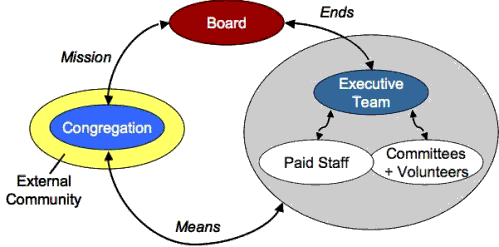 The Board of Trustees is elected by the members of the church. As stated in the bylaws, the board's responsibility is to ensure the purpose of the church is achieved. To do this, the board discerns the purpose or mission of the church through an ongoing dialog with the congregation and the external community. The mission perceived by the board is then distilled in a series of strategic goals or Ends policies that are provided to the Executive Team for implementation.
The Executive Team's role is to prioritize the Ends with the board, reflecting the available resources, and to facilitate their implementation through the staff, committees, and individual volunteers. The work of the Executive Team, staff, committees, and volunteers then provide the means to fulfill the purpose of the church, addressing the prioritized needs of the congregation and external community.
Board of Trustees
The Board of Trustees consists of five officers (President, Vice President, Clerk, Treasurer, and Assistant Treasurer) and eight at-large members. The officers serve for two year terms, and the at-large members serve staggered two-year terms (i.e., four members elected each year).
The following committees serve the Board of Trustees in carrying out its role: Investment Review and Personnel. The White Wing School board also reports to the Board of Trustees.
Executive Team
The Executive Team comprises the Minister, who serves as the leader of the team; Church Administrator, Director of Religious Education, Membership Coordinator, Music Director, Treasurer, and Sexton.
The Executive Team serves as the liaison to facilitate the work of the following church committees: Denominational Connections, Membership, Property, Public Relations, Religious Education, Social Activities, Social Justice, and Worship and Services.
Committees of the Congregation
Several committees are considered committees of the congregation, since their members are principally elected by church members. These consist of the Financial Records Review and Nominating committees and the Nashua Cemetery Association Board of Trustees.